This page is a sub-page of our page on Art.
///////
Related pages:
• Shift of Basis (in general).
///////
Ändring av bakgrunder (= baser) för en avbildning: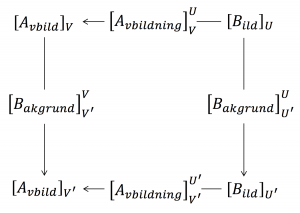 ///////
The Basis of a picture is the background against which the picture is interpreted.
"Ambiguous pictures" can be interpreted against several backgrounds (most often two).
/////// From our page on Conformal face mapping:
Sinusing my face with the grid [z'=sin(z+P+(nπ/2)(ReP)), P=1+i)]:

///////
Sinusing my face with the grid [z'=sin(Pz), P= circle on (2, 0) radius 1/2] 2:

///////