This page is a sub-page of the page on our Mathematical Explainatorium.
///////
The sub-pages of this page are:
• Expandable Learning Objects
• Mathematical Hikes
• Exploring and Explaining
• Math Makers versus Math Fakers
///////
Related KMR pages:
• New Paradigms and Tools for Math Education
• Reawakening Interest
• First class mathematics at the old KMR website
• Ambjörn's First Class Mathematics project at the St. Erik Catholic School, 1991 – 1996.
• Having fun with the Graphing Calculator,
A two-week PRAO internship by Anthony Word at CID/NADA/KTH in November 1999.
///////
Related sources of information:
• Anyone Can Be a Math Person Once They Know the Best Learning Techniques by Po-Shen Loh, 19 Mar 2017.
• Brilliant – Math and science done right
• The Teaching Gap : Best Ideas from the World's Teachers for Improving Education in the Classroom, by James W Stigler and James Hiebert, 2009.
///////
First Class Mathematics
First Class Mathematics aims to convey an image of mathematics as a double-brained mental activity. In order to develop the ability for structural thinking, it is of the utmost importance that all students are encouraged and supported in their attempts to develop their own mathematical fantasies during their entire learning process. This is only possible if they are confronted with interesting examples of 'good mathematics' during every stage of their mathematical education.
An illustrative example of the effects of such a confrontation is given by the so called Rubrik's cube (known simply as "the cube"), which was such a fascinating mental torment to the kids in the 1980s. They got into doing their own advanced forms of algorithmic mathematics – but only during their breaks and time of leisure from a school-system that was totally incapable to realize what was going on, let alone to make use of it in order to promote the mathematical interest of the students. Our electronic portfolio archive on First Class Mathematics can be found here.
By the aid of modern computers, many exiting mathematical structures can be animated and brought to interactive life in ways that open new and exiting pedagogical possibilities. Today there is a large number of computer-based mathematical tools that empower a student to explore mathematical concepts in interactive and dialectical ways, i.e. in an ongoing dialogue with the computer program (and of course with the teacher). It is the aim of the First Class Mathematics project to contribute to the developments of such tools, as well as to promote a pedagogical strategy that makes it possible to integrate them in the educational process in a way that stimulates interest to learn more about the underlying mathematical structures.
An example of how "first class math rehab" can be carried out in practice is presented here.
///////////////////////////////////////////
Translation of some basic Terms
from Mathematese to Descriptive Language: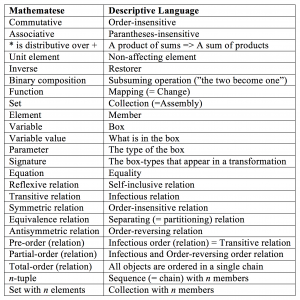 ///////////////////////////////////////////
/////////////////////////////////////////// På svenska (= in Swedish):
Översättning av några grundläggande Termer
från Matematiska till Beskrivande Vardagsspråk: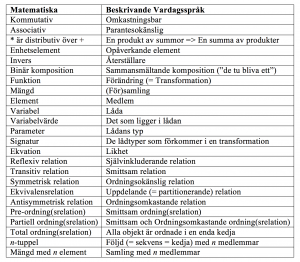 ///////////////////////////////////////////