This page provides a set of screenshots of some of the drop-down menus of the KMR web site. The purpose is to provide a visual overview of its thematic structure and to show the semantic proximity of some of the appearing concepts and constructions. The corresponding pages can be accessed by clicking their respective super-pages at the top:

and navigating the drop-down menus "from left to right". When the number of sub-sub-sub- … menus becomes too large to display simultaneously, you can continue down the sub-menus by navigating horizontally across to the next sub-level to the right and then navigating vertically within that sub-level. This can sometimes be a bit tricky since there is a tendency to "lose the horizontality" of the cursor movement. If the horizontal cursor motion is violated, the entire tree of open sub-menus disappears.
Most of the pages have links to Relevant KMR-pages as well as links to Other relevant sources of information. This is because the relational structure of the pages supported by WordPress is a tree, which is another way of saying that each page can only be the sub-page of ONE super-page – as opposed to a directed acyclic graph, where a page can be the sub-page of several different super-pages. This relational structure is often referred to as "multiple inheritance". For example, in representational systems that support multiple inheritance a HouseBoat class can inherit properties from both a House class and a Boat class.
///////
Math Rehab
Research areas: Math Rehab: What is mathematics?: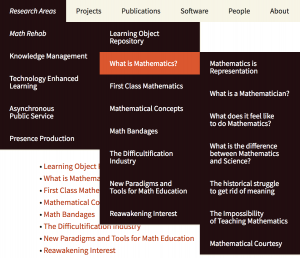 ///////
First Class Mathematics
Research areas: Math Rehab: First Class Mathematics: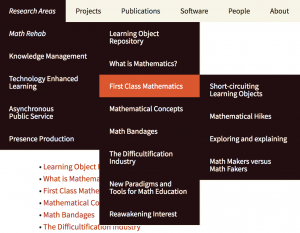 Research areas: Math Rehab: First Class Mathematics: Short-cirquiting Learning Objects:
Music: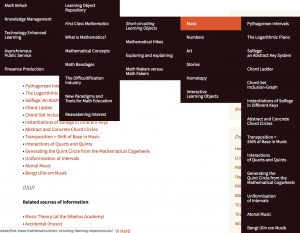 Research areas: Math Rehab: First Class Mathematics: Short-cirquiting Learning Objects:
Numbers: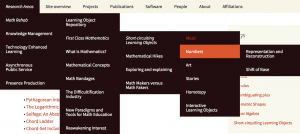 Research areas: Math Rehab: First Class Mathematics: Short-cirquiting Learning Objects:
Art: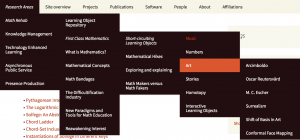 Research areas: Math Rehab: First Class Mathematics: Short-cirquiting Learning Objects:
Stories: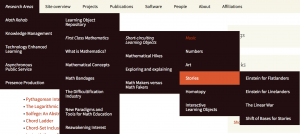 Research areas: Math Rehab: First Class Mathematics: Short-cirquiting Learning Objects:
Interactive Learning Objects: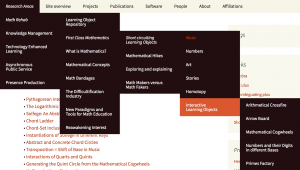 ///////
Research areas: Math Rehab: Mathematical Concepts: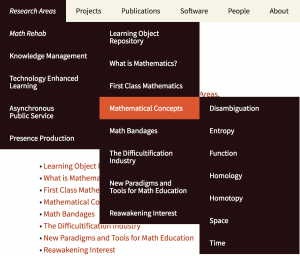 Research areas: Math Rehab: Mathematical Concepts: Entropy: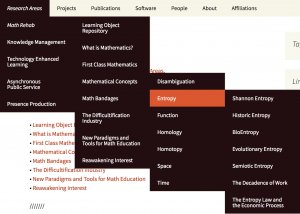 Research areas: Math Rehab: Mathematical Concepts: Time: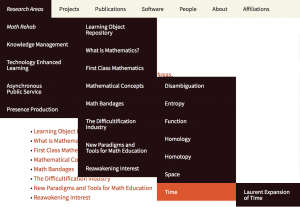 ///////
Learning Object Repository
Research areas: Math Rehab: Learning Object Repository: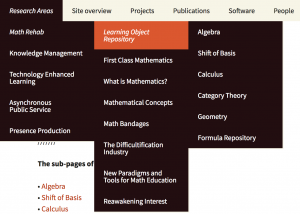 ///////
Calculus
Research areas: Math Rehab: Learning Object Repository:
Calculus: Calculus Of One Real Variable: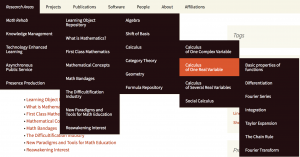 Research areas: Math Rehab: Learning Object Repository: Calculus:
Calculus Of Several Real Variables: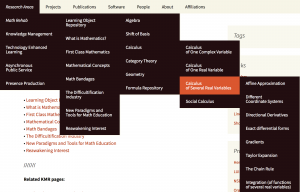 Research areas: Math Rehab: Learning Object Repository: Calculus:
Calculus Of One Complex Variable: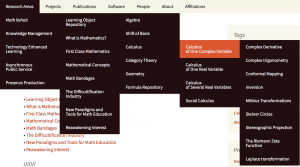 ///////
Algebra
Research areas: Math Rehab: Learning Object Repository: Algebra:
Linear Algebra: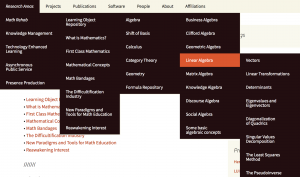 Research areas: Math Rehab: Learning Object Repository: Algebra: Linear Algebra:
Vectors: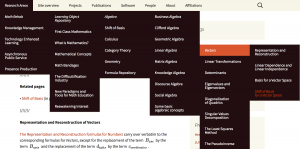 Research areas: Math Rehab: Learning Object Repository: Algebra: Linear Algebra:
Linear Transformations: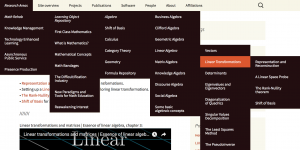 Research areas: Math Rehab: Learning Object Repository: Algebra:
Geometric Algebra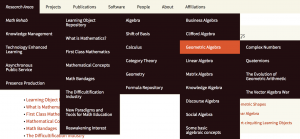 Research areas: Math Rehab: Learning Object Repository: Algebra:
Business Algebra: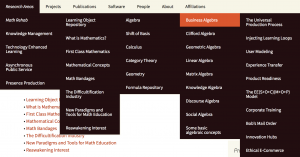 Research areas: Math Rehab: Learning Object Repository: Algebra:
Knowledge Algebra:

Research areas: Math Rehab: Learning Object Repository: Algebra:
Discourse Algebra: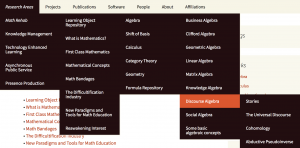 Research areas: Math Rehab: Learning Object Repository: Algebra:
Social Algebra: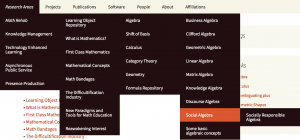 Research areas: Math Rehab: Learning Object Repository: Algebra:
Some basic algebraic concepts: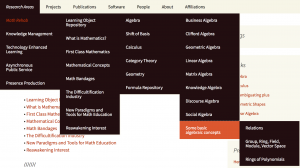 ///////
Geometry
Research areas: Math Rehab: Learning Object Repository: Geometry:
Differential Geometry: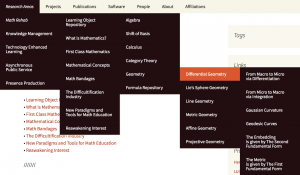 Research areas: Math Rehab: Learning Object Repository: Geometry:
Metric Geometry: Euclidean Geometry: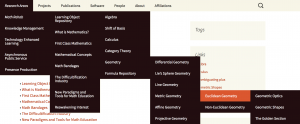 Research areas: Math Rehab: Learning Object Repository: Geometry:
Metric Geometry: Euclidean Geometry: Geometric Optics: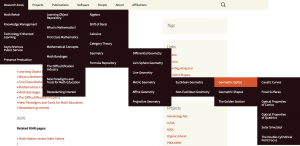 Research areas: Math Rehab: Learning Object Repository: Geometry:
Metric Geometry: Euclidean Geometry: Geometric Shapes: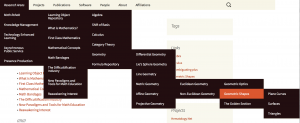 Research areas: Math Rehab: Learning Object Repository: Geometry:
Metric Geometry: Euclidean Geometry: Geometric Shapes: Plane Curves: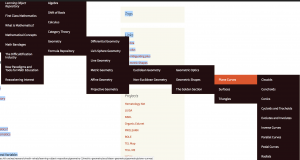 Research areas: Math Rehab: Learning Object Repository: Geometry:
Metric Geometry: Euclidean Geometry: Geometric Shapes: Surfaces:

Research areas: Math Rehab: Learning Object Repository: Geometry:
Metric Geometry: Non-Euclidean Geometry: Hyperbolic Geometry:


Research areas: Math Rehab: Learning Object Repository: Geometry:
Projective Geometry: Projective Metrics: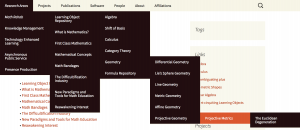 ///////
Category Theory
Research areas: Math Rehab: Learning Object Repository: Category Theory: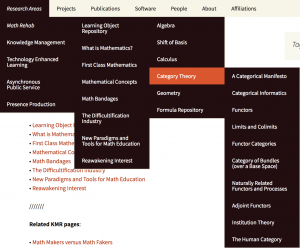 ///////
Knowledge Management
Research areas: Knowledge Management: Modeling and Mapping:
Systems Modeling: Shifting the Burden: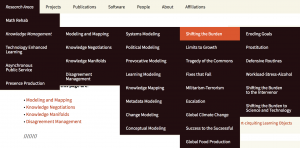 Research areas: Knowledge Management: Modeling and Mapping:
Systems Modeling: Limits to Growth: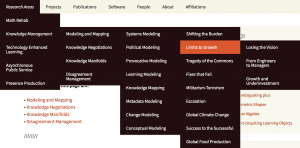 Research areas: Knowledge Management: Modeling and Mapping:
Political Modeling: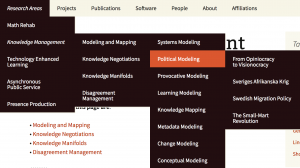 Research areas: Knowledge Management: Modeling and Mapping:
Provocative Modeling: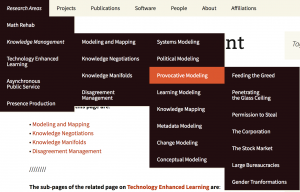 Research areas: Knowledge Management: Modeling and Mapping:
Learning Modeling: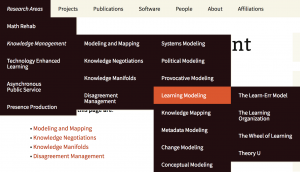 Research areas: Knowledge Management: Modeling and Mapping:
Knowledge Mapping: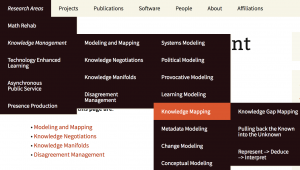 ///////
Technology-Enhanced Learning
Research areas: Technology-Enhanced Learning: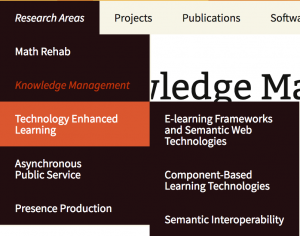 ///////
Asynchronous Public Service
Research areas: Asynchronous Public Service: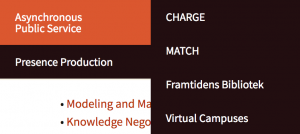 ///////
Research areas: Knowledge Management: Knowledge Manifolds: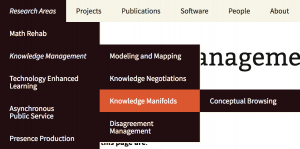 ///////
Projects: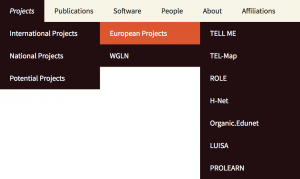 ///////
Projects: International Projects: European Projects:
TELL ME (Technology Enhanced Learning Livinglabs for Manufacturing Environments):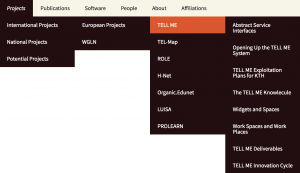 ///////
Projects: International Projects: European Projects:
TEL-Map (Future-gazing Technology Enhanced Learning in uncertain times):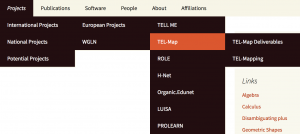 ///////
Projects: International Projects: Wallenberg GLobal Learning Network:


///////
Projects: National Projects: Nya Samarbetsformer i det Digitala Lärandelandskapet: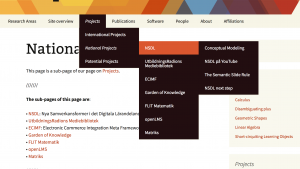 ///////
Projects: Potential Projects: Norm-Critical Innovation: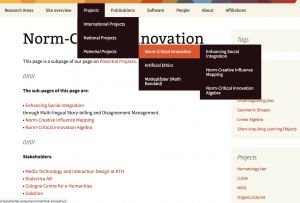 ///////
Affiliations: KTH: CID/NADA/KTH: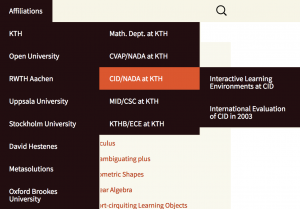 ///////
Affiliations: David Hestenes: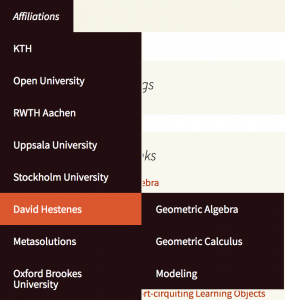 ///////