This page is a sub-page of the page on Knowledge Management.
///////
Related KMR-pages:
• Disagreement Management
• Collectigence
• Common Sense
• MATCH (MAthematical Transformations for Cultural Heritage)
• CHARGE (Cultural Heritage Asynchronous Research Grid Environment)
• Modeling and Mapping
• Provocative Modeling
• Systems Modeling
• Global Warming
///////
Knowledge Negotiations
History has demonstrated the shortcomings and limitations of top-down (cata-logically) constructed classification systems. We have gradually come to realize that there will never be any global agreements regarding the structure of things – except in very simple cases. As regards the structure of more complicated things, we can only hope to achieve more or less local and contextually dependent agreements that are constructed bottom-up (ana-logically).
Moreover, such agreements result in conceptual models that must always be open for updates through renegotiations as our collective knowledge advances and expands. The aim of these renegotiations is to find common grounds (local agreement) for restructuring the old conceptual models (that reflect the old knowledge) and adjust them to the emerging new knowledge. The processes of building conceptual models and negotiating the relationships between them will be referred to as knowledge negotiations.
It is important to be aware that the conversations that facilitate such knowledge negotiations are invariably biased by the implicit models and contexts that each agent brings to the "negotiating table." Such implicit models and contexts can be regarded as representing various forms of preferences, beliefs and assumptions of a mental, emotional and social nature. They represent the "pre-understanding" of each agent. In Figure 57 they are represented as the mental models and the emotional and social contexts of the participating agents.
Building a common conceptual model
Figure 57 shows a "knowledge negotiation" where two agents are engaged in creating a common conceptual model


Figure 57: Building a common conceptual model.
As indicated by the dashed arrows each agent is embedded in its own mental models as well as its own emotional and social contexts. These implicit contexts set the stage for the explicit construction of the conceptual model.
As shown in Figure 58, we test a conceptual model by interrogating it with queries and draw inferences. If we agree on the inferences through the model from the queries that we are interrogating it with, then we are in agreement on the validity of the model.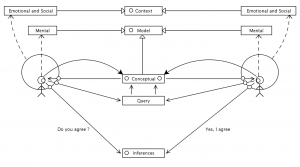 Figure 58: Testing the model with queries and inferences.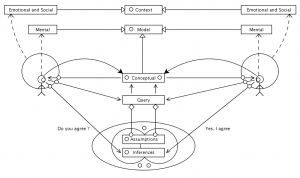 Figure 59: Acknowledging the respective implicit beliefs and assumptions.
However, as shown in Figure 59, these agreements are reached on the top of each agent's implicit pre-conceptions, which are represented in terms of the agent's mental, emotional, and social models or contexts. If these pre-conceptions are not taken into account when testing the conceptual model, we tend to overlook queries that could reveal important discrepancies between the interpretation of the model by the participating agents. In fact, such discrepancies are often revealed at a later stage, when they can often create problematic misunderstandings.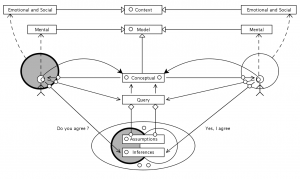 Figure 60: Which are based on implicit (mental, emotional, social and cultural) models
Figure 60 emphasizes the potential for such misunderstandings, by showing that the "intersection" between the preconceptions of the participating agents can often be quite small which diminishes the strength of the negotiated model. If the implicit beliefs and assumptions are not shared, different interpretations on what has been agreed are liable to turn up at a later stage.
///////
SNAPSHOTS FOR A KNOWLEDGE HIKE
///////
Functorial and non-functorial patterns: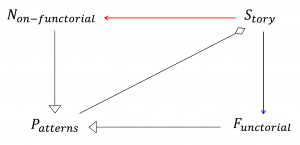 ///////
Functorial and non-functorial relations between energy theories: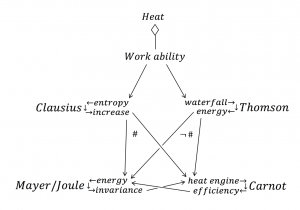 ///////
Functorial transformation: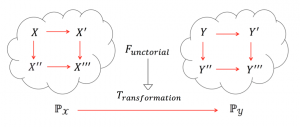 ///////
A Pattern is Exemplified by another Pattern: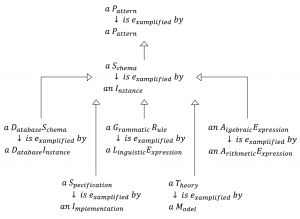 ///////
What we agree on and what we obey: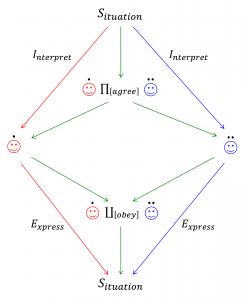 ///////
We as the Limit and Colimit of Me and You:

///////
Leviathan as the limit and the colimit of his subjects: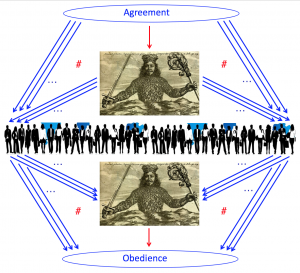 ///////
Negozilla: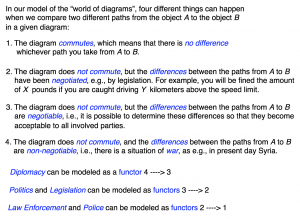 ///////
Interpreting objects through concepts: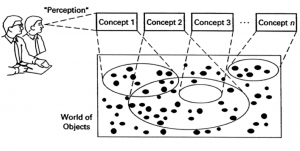 ///////
Interpreting an Object through a Model: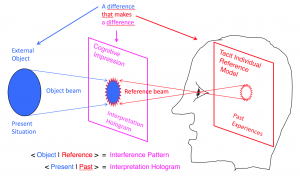 ///////
Evolving a Cultural Reference Model: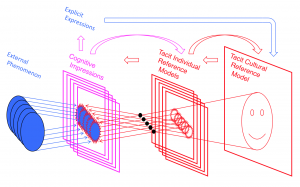 ///////
A five-layered model of human communication: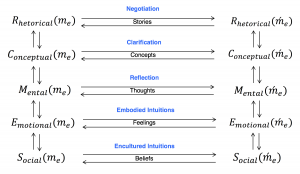 ///////
Explicitly and tacitly supported communication loop: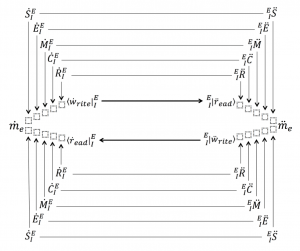 ///////
The React –> Preact –> Act loop:

///////
Read-Write interaction loop: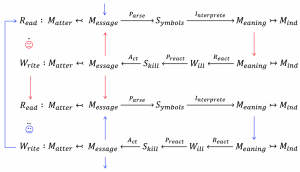 ///////
A difference that makes a difference: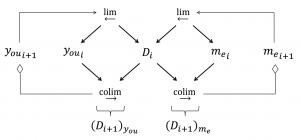 ///////
How a difference makes a difference: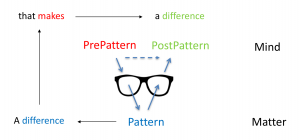 ///////
Pullback from FunctorCategories Mind –> Cat:

///////
Looking through functor categories:
///////
Aware schema mappings: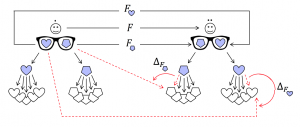 ///////
Unaware schema mappings:
///////
Read-write loop through glasses: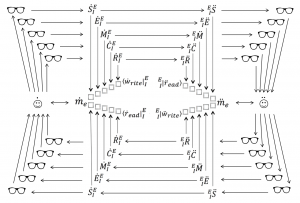 ///////
Read-write loop with glasses and implicit templates: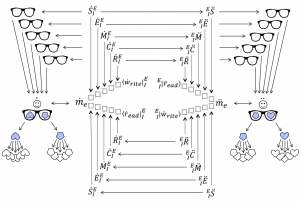 ///////
Anastomotic reticulum 1: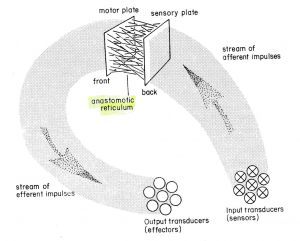 ///////
Anastomotic reticulum 2: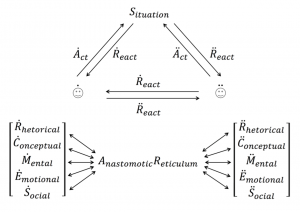 ///////
Read-write loop through anastomotic reticulum: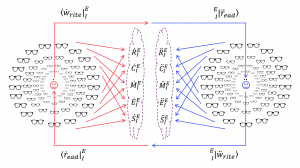 ///////
Hierarchy of limits (= agreements) and colimits (= coherent actions):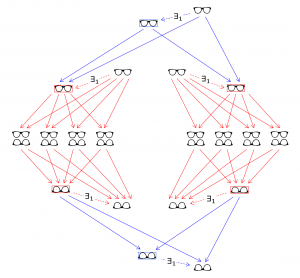 ///////
Multi-level commutativity: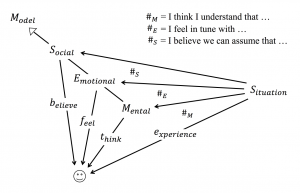 ///////
Pullback of Thoughts, Feelings, and Beliefs: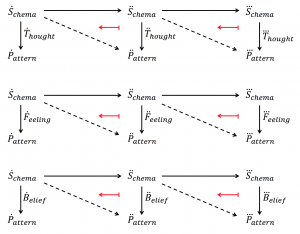 ///////
Communicating through thought-graphs: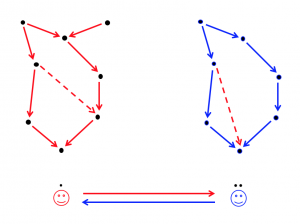 Mapping a thought-square 1: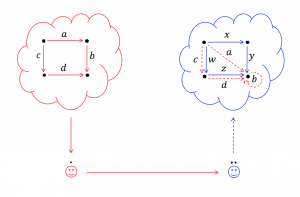 Mapping a thought-square 2: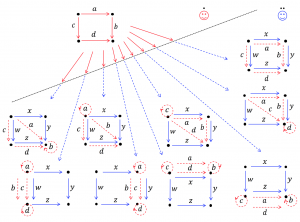 Mapping a thought-square 3: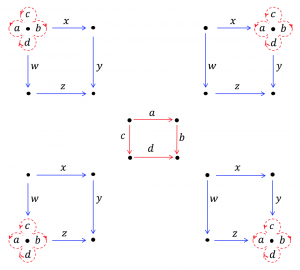 Mapping a thought-square 4: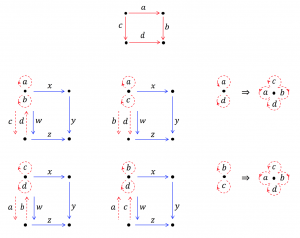 Mapping a thought-square 5:

Mapping a thought-square 6: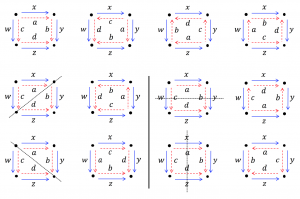 ///////
Two cognitive agents modeling a situation in Me^3 + You^3: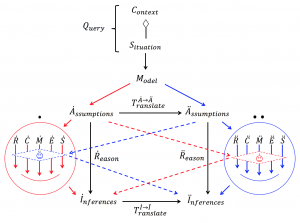 ///////
Two cognitive agents modeling a situation 2: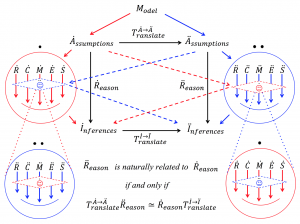 ///////
Two cognitive agents modeling a situation 3: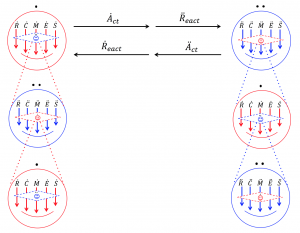 ///////
Two cognitive agents modeling a situation 4: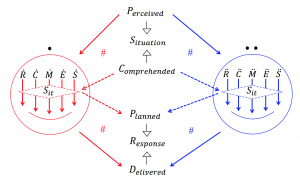 ///////
Conscious and Sub-Conscious Communication: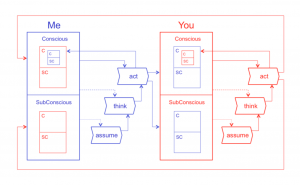 ///////
Communication model for Human Atolls: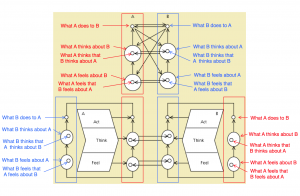 ///////
Me^3 and You^3:

///////